What is Allow Website Notifications?
"Allow Website Notifications" is a spam promotion method that has recently become popular amongst cyber criminals. It is a simple method used to promote various malicious sites. Research shows that users typically encounter "Allow Website Notifications" when they have potentially unwanted adware-type programs (PUPs) installed on their computers. In some cases, these pop-ups occur after clicking intrusive advertisements displayed by malicious sites.
In the past, most spam was distributed using emails, however, email providers have become efficient in dealing with the problem and so this method is consequently less effective. Therefore, criminals search for new methods to proliferate spam, including "Allow Website Notifications". In general, the "Allow Website Notifications" option is legitimate and allows web developers to notify users when new content is posted, however, criminals misuse this facility to promote malicious websites. When users open a website with "Allow Website Notifications", they are prompted with a pop-up asking for permission to display notifications. If users agree, their choices are saved in browser options and criminals are then able to continually feed them with unwanted ads. In this way, users are redirected to sites that contain malicious content, thus leading to system infection. Some sites ask to enable notifications, otherwise content will not be displayed. When the user declines, the pop-up simply re-appears until the website is closed. These claims to display content are merely attempts to trick users into clicking "Allow" – after doing so, users receive nothing. Fortunately, removing permission to display notifications is simple – follow the instructions below.
Adware-type applications typically do two things: 1) display intrusive advertisements, and; 2) gather sensitive information. To display ads (coupons, banners, pop-ups, and so on), adware employs various tools that enable placement of third party graphical content on any site. Therefore, displayed ads often conceal underlying website content, thereby diminishing the browsing experience. Furthermore, intrusive ads can lead to malicious websites and even run scripts that download/install malware (or other PUPs). Even a single click can result in high-risk computer infections. Another important issue is information tracking. Potentially unwanted programs gather various information (e.g., geo-locations, IP addresses, keystrokes, URLs visited, pages viewed, queries entered into search engines, and so on) that might contain personal details. This information is shared with third parties (potentially, cyber criminals) who generate revenue by misusing private information. Therefore, the presence of data-tracking apps might lead to serious privacy issues or even identity theft. You are strongly advised to remove all adware-type applications immediately.
There are hundreds of adware-type applications, all of which are virtually identical (e.g., Pokki, Update Checker, Current Me, etc.) By offering a wide range of "useful functions", potentially unwanted programs attempt to give the impression of legitimacy and trick users to install, however, all adware is designed only to generate revenue for the developers. This rogue software merely gathers sensitive information and delivers intrusive advertisements, thereby posing a direct threat to your privacy and Internet browsing safety.
How did potentially unwanted programs install on my computer?
Although some PUPs have official download/promotion websites, most infiltrate systems without permission, since adware is typically distributed using intrusive advertising and "bundling" methods. "Bundling" is essentially stealth installation of third party software with regular apps. PUP developers do not disclose these installations properly – they hide "bundled" apps within various sections (e.g., "Custom/Advanced" settings) of the download or installation processes. Furthermore, many users click intrusive advertisements and skip download/installation steps. In doing so, they expose their systems to risk of various infections and compromise their privacy.
How to avoid installation of potentially unwanted applications?
To prevent system infiltration by PUPs, be very cautious when browsing the Internet and downloading/installing software. Bear in mind that intrusive advertisements typically seem legitimate, but redirect to dubious websites (e.g., pornography, adult dating, gambling, and so on). If you experience these redirects, immediately remove all suspicious applications and browser plug-ins. Carefully analyze each step of the download/installation processes and decline offers to download/install additional applications. We recommend that you download your programs from official sources only, using direct download links, since developers monetize third party downloaders/installers by promoting PUPs. The key to computer safety is caution.
How to remove/disable notifications in web browsers:
Google Chrome (PC):
Click the Menu button (three dots) on the right upper corner of the screen
Select "Settings", scroll down to the bottom and click "Advanced"
Scroll down to the "Privacy and security" section, select "Content settings" and then "Notifications"
Click three dots on the right hand side of each suspicious URL and click "Block" or "Remove" (if you click "Remove" and visit the malicious site once more, it will ask to enable notifications again)
Mozilla Firefox:
Click the Menu button (three bars) on the right upper corner of the screen
Select "Options" and click on "Privacy & Security" in the toolbar on the left hand side of the screen
Scroll down to the "Permissions" section and click the "Settings" button next to "Notifications"
In the opened window, locate all suspicious URLs, click the drop-down menu and select "Block"
Internet Explorer:
Click the Gear button on the right upper corner of the IE window
Select "Internet options"
Select the "Privacy" tab and click "Settings" under "Pop-up Blocker" section
Select suspicious URLs under and remove them one by one by clicking the "Remove" button
Microsoft Edge:
Click the menu button (three dots) on the right upper corner of the Edge window
Scroll down, find and click "Settings"
Scroll down again and click "View advanced settings"
Click "Manage" under "Notifications"
Click the switch under each suspicious website
Safari:
Click "Safari" button on the bottom of the screen and select "Preferences…"
Select the "Websites" tab and then select "Notifications" section on the left pane
Check for suspicious URLs and apply the "Deny" option for each
Instant automatic removal of Allow Website Notifications virus:Manual threat removal might be a lengthy and complicated process that requires advanced computer skills.
Summary: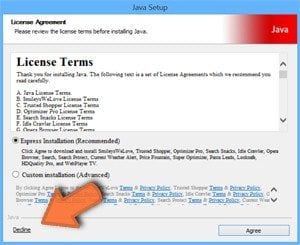 Commonly, adware or potentially unwanted applications infiltrate Internet browsers through free software downloads. Note that the safest source for downloading free software is via developers' websites only. To avoid installation of adware, be very attentive when downloading and installing free software. When installing previously-downloaded free programs, choose the custom or advancedinstallation options – this step will reveal any potentially unwanted applications listed for installation together with your chosen free program.